All suites have a King Bed with luxury 100% organic cotton and bamboo linens, a private bathroom with a shower, hairdryer, first aid kit, extra toiletries, and towels. Plus each room has wine glasses, a corkscrew and snacks.

Enjoy the beautiful views at the small table and chair(s) in your room. Also included is access to our luxurious hot tub (open year round) and private Pool (open Memorial Day through Labor Day). Relax on our spacious front porch, play games or read in our cozy Hearth Room, or enjoy the views from our private deck.

Bike storage is available for cyclists plus there is plenty of off-street parking for our guests.

*Add a Jordan Essentials Spa Collection to your room to pamper yourself or as a gift for your someone special. Choose your collection and your scent: Oatmeal Milk & Honey, Pear & Poppy, Coconut Lime, Black Raspberry Vanilla, Citrus & Cider, Sea Spa, Lavender & Eucalyptus, Bergamot & Sandalwood, or Unscented (more about fragrances here) **Must be ordered when making your reservation, subject to availability**

Basic Spa Collection $40 (save $9) - Exfoliate, moisturize and protect your skin. Includes: 8 oz. Salt Scrub, Shea Body Butter OR Hand & Body Lotion, and a Lotion Bar.

Everyday Spa Collection $60 (save $10) - Enjoy cleansing, exfoliating, and moisturizing every day. Includes: 8 oz. Salt Scrub, Shea Body Butter OR Hand & Body Lotion, Lotion Bar, 9 oz. Shower Gel, and Hand Soap.

Premier Spa Collection $75 (save $17) - The ultimate body care collection! soak, cleanse, exfoliate, moisturize, protect and nourish your skin. Includes: 20 oz. Salt Scrub, Shea Body Butter OR Hand and Body Lotion, Lotion Bar, 9 oz. Shower Gel, Hand Soap, 8 oz. Dead Sea Salts, 4 oz. Hydrating Spritzer, Lip Care Duo, and 2 oz. Hand & Body Lotion.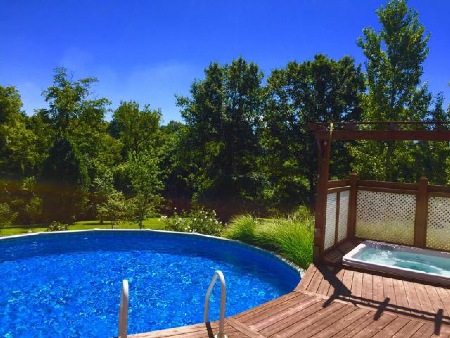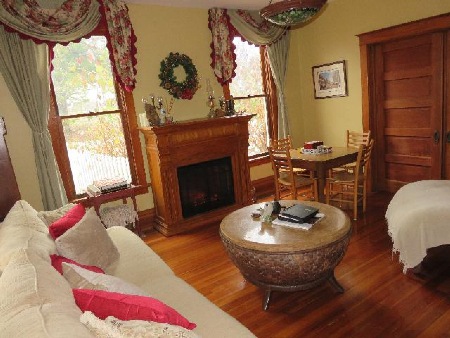 On weekends you'll be greeted at check-in with our famous homemade Grandma Stumpe's Oatmeal Chocolate Chip Cookies.

On Saturday and Sunday mornings coffee and tea are available at 7:00am in the vestibule outside your room. Plus coffee, tea, and juice are available at 8:45am in the Dining Room while we lovingly prepare a homemade breakfast using as many local and fresh ingredients as possible.

On Monday through Friday mornings we offer a special discounted weekday rate because we are not able to offer freshly brewed coffee or breakfast due to our family situation. We do offer an electric kettle and instant coffee along with an assortment of tea that you can help yourself to any time.

If you would like to request freshly brewed coffee on Weekdays a $10.00 fee will be added to your bill. Please visit Kate's Coffee just up the street at Walnut & Jefferson which opens at 7:00am for your coffee and breakfast on weekday mornings http://www.oakscrossing-augusta.com/kate's_coffee_house.htm